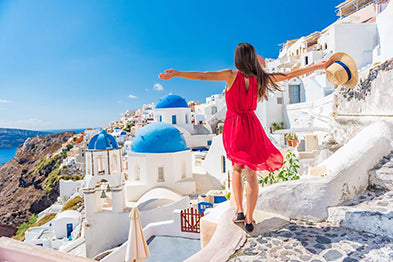 Blessed with historical sites everywhere, to-die-for beaches, perfect islands, olive trees galore and simple, fresh food, Greeks are a mix of Italians and Latin Americans: loud, loving, messy, and mostly FUN individuals.
Mariella and I are constantly in the look-out for unique boutique hotels, event venues, authentic restaurants and of course, shopping for the original stuff from markets to high-end goods. Here we always find so much more than we hoped for.
Winters are mild and summers start in April. You will find yourself walking everywhere, eating at every corner you can and discovering products which are consumed by locals proud of their great taste and quality.
Women in Greece are all about beauty, care and have always had a healthy approach to life. Blessed with soft and supple skin, they all agree olive oil is the key to it all, not just for skin but also for their beautiful shiny hair.
Until you can go, please do try our favorites, nothing better than sea salts, olive oils, creams and butters to pamper your skin after long days swimming and tanning (my hair and skin can't do without them).
Happy Testing!
P.S. A stop in Athens is in order and dinner at Dionysos Zonar's overlooking The Parthenon is an Instagram must!
For help planning your Greek Islands vacay, please DM us at @powerplannersevents or send us an email to info@powerplanners.net 
Korres Santorini Vine Shower Gel & Body Milk