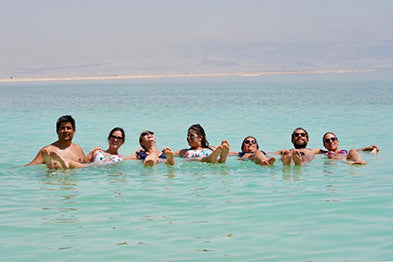 Israel was on my bucket list since I can remember. I was very intrigued by its history and biblical stories. Mariella and I were raised catholic but are always open to explore and absorb tradition and beauty from all cultures, religions, and places. We have traveled all our life, but nothing beats our first encounter with the Holy Land.
It is the epic journey!
We have covered vast ground in Israel during our visits. From Tel Aviv with its boho vibe during the day and its glam at night –Jerusalem, a true world on its own; emotional moments as sisters and spiritually enriching times with the team, eye opening for all, reminded about the small world we cohabitate in. To the desert, breathtaking views from Masada and finally reaching the Dead Sea.  
We have had so much fun working and playing in Israel and made so many memories and friends. Undoubtedly, we devote a large amount of time shop-hopping when we visit, and yes this is always the way we find the creme-de-la-creme and why we shine bright when we produce our events. We eat local, party local, mingle and clearly shop local.
Needless to say, the products we are showcasing here are a true reflection of their origins: Organic beauty and GLAM.
Lehaim!
For travel advise on when and how to explore and enjoy Israel (for first timers or not) DM us at @powerplannersevents or send us an email to info@powerplanners.net
Lavido 2-in-1 Purifying Facial Mask & Exfoliator